Note:
-Hoichoi meals are complimentary with registration. There are 6 meals in total.
-Please consider your kid's age as on the date of the event.
Please contact us at +31684401050/ +31643795395 for any questions/ queries regarding online registration.
This year, let Kolkata come to Amstelveen!
ঢাকে আবার প​ড়বে কাঠি, পুজো হবে জমজমাটি! এইবারের পুজোয় আপনাদের জন্যে অপেক্ষা করে আছে আরো মজা, আরো আড্ডা, আরো খাওয়াদাওয়া – আরো হৈচৈ! তো, ৪ অক্টোবর থেকে ৮ অক্টোবর – অফিস-স্কুলের লিভ রিকোয়েস্ট​, শাড়ী-জামাকাপ​ড়ের অর্ডার, জিম​-বিউটি পার্লারের বুকিং ইত্যাদি করতে শুরু করুন​। আসছে, হল্যান্ডে হৈচৈ-আয়োজিত – 'দুর্গাপূজা ২০১৯'!
We are looking forward eagerly for another grand celebration of Durga Puja. Get yourselves ready to participate in the grandeur and getting soaked in the festivity, 4 October 2019 – 8 October 2019. This time, we promise more 'Hoichoi' for you all!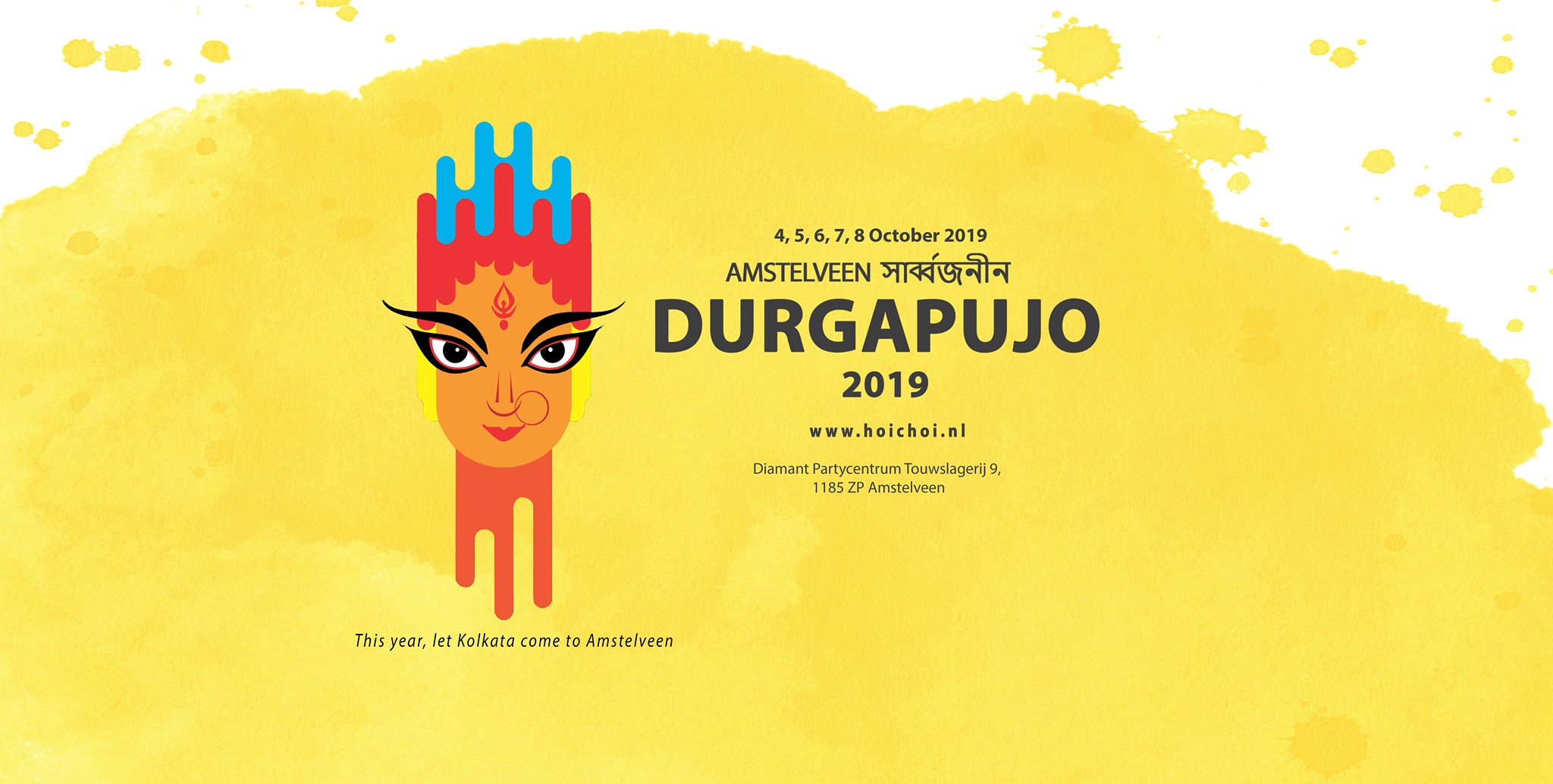 Event location:
Diamant Party Centrum
Touwslagerij 9, 1185 ZP Amstelveen
[For route information please refer 9292.nl]
Direction to the venue:
Note: Metro line 51 is not running due to renovation work on the metro tracks. Bus 55 is the alternative transportation provided in this line.
From Station Zuid: Bus 55 (direction Amstelveen)
From Oranjebaan: Bus 55 (direction Amstelveen)
From Amstelveen Busstation: Bus 357 / Bus 358 (direction Aalsmeer)
If you are coming by public transport, you can board on the mentioned bus lines, and get down at stop Sacharovlaan. The venue is around 6 minutes walk from Sacharovlaan bus stop.
Hereby the walking route from Sacharovlaan 55 bus stop to the venue.